Real-Time Data Solutions
Smart services & decisions through real-time data
Would you like to offer your customers innovative services and an optimal customer experience? Do you want your company to be able to respond to market requirements, incidents and customer interaction in real time? Would you like to make decisions on the basis of data that is always up to date? Does your company have a lot of data and systems that don't deliver real time information?
Together, we implement
IT solutions & processes for
​​​​​​​your business in real time
Real-time data availability
Edit html here to add SVG.
Generate added value through data events
Edit html here to add SVG.
Real-time data hub connects IT systems
Edit html here to add SVG.
Static data is a thing of the past. The future belongs to data streaming
Static data is no longer up to date, because new business & customer requirements demand real-time data streaming and data availability. This requires data to be made 'dynamic' and its transfer to and from different IT systems to be enabled and accelerated. However, many companies have systems and legacy software that does not easily enable this. Often, significant gaps between IT systems that limit the ability to transfer critical data in real time aggravate this.
​​​​​​​
Today's customers, however, expect innovative services and personalised, contextual experiences delivered in real-time across online and offline channels. This affects companies in almost every industry. To meet these customer expectations, processes must be built in a customer-centric and event-driven manner, and data must be used in real time. Constantly changing market conditions also require real-time data in order to pro-actively meet the new requirements.
​​​​​​​
Together with you, we make your data dynamic and your business ready for real-time.
We implement real-time data solutions that add value
With an event streaming platform, we link your IT systems to data flows and data processing in real time. Thus, we create foundations to generate added value for your business in an event-driven way and with the help of real-time data. Our real-time data & business analytics solutions allow your company to offer your customers innovative services and an optimised customer experience while your processes pro-actively adapt to changing market conditions and make well-founded data-based decisions more quickly.

​​​​​​​Almost all industries benefit from real-time data. Together, we generate added value for your business with real-time data solutions tailored to your company!
Technical article
Real-time data offers great potential for many industries
Whether click & collect in retail, smart mobility services or IoT applications - real-time information opens up a wide range of opportunities for companies and customers. Thomas Renner and Stefan Pirer, business analytics experts at DCCS, explain why the use of real-time data is becoming increasingly important in a wide range of industries.
Retail
Linking their physical shop and online shop is crucial for retail organisations that want to offer their customers a great customer experience across all channels. The basis for all omni-channel services such as click & collect is the linking of information such as online orders, inventory and article availability in the shops in real time. Only this link and a real-time inventory management system can make sure that the ordered article is actually available at the chosen outlet. Thus, omni-channel services require real-time processing to meet their high customer expectations. A bonus point system for customers that is always up to date, real-time retail data to schedule personnel and retail merchandise capacities or optimised customer experiences via real-time based services are more required than ever before to best serve one's customers.
INTERSPORT Austria scores points with customers thanks to real-time services

​​​​​​​Case Study
Read how our customer INTERSPORT Austria GmbH processes all relevant data from various systems in real time using an Apache Kafka based Confluent platform, how it significantly accelerated its processes and how customers and retailers benefit from all of that in our Intersport real-time services case study.
Read more
Real-time in retail: How real-time data optimises the customer experience in retail and creates added value for retailers

​​​​​​​Whitepaper
Digitisation offers up many new opportunities to retailers, but it also resulted in raised expectations and demands from customers. Thus, retail companies are forced to act to present themselves more customer-oriented and future-proof. But what do customers expect? A lot! They want their purchasing process to be an experience – tailored and innovative. Specifically, they want to shop independent of place and time and functioning omni-channel service as well as instant fulfilment, context-related, tailored experiences at all contact points along their customer journey and innovative services that offer added value.
​​​​​​​
But how can retail companies meet these expectations? What omni-channel services do customers expect from their customer journey? Why are real-time data and real-time inventory management the foundation stone? And what other benefits can the retail sector generate for it and its customers from real-time data?

Get answers to these questions and many more in our white paper titled Real-Time in Retail
Read more
Let's make your business ready for real-time
Together with you, we make your data dynamic and your business ready for real-time. With a centralised data architecture that enables event streaming, we will jointly develop real-time applications that automatically and intelligently respond to data incidents. This opens up new revenue opportunities by identifying the real-time triggers that serve as customers' buying signals. Furthermore, this architecture is the foundation for superior customer experiences, innovative digital services, and smart processes including new levels of automation.
​​​​​​​
​​​​​​​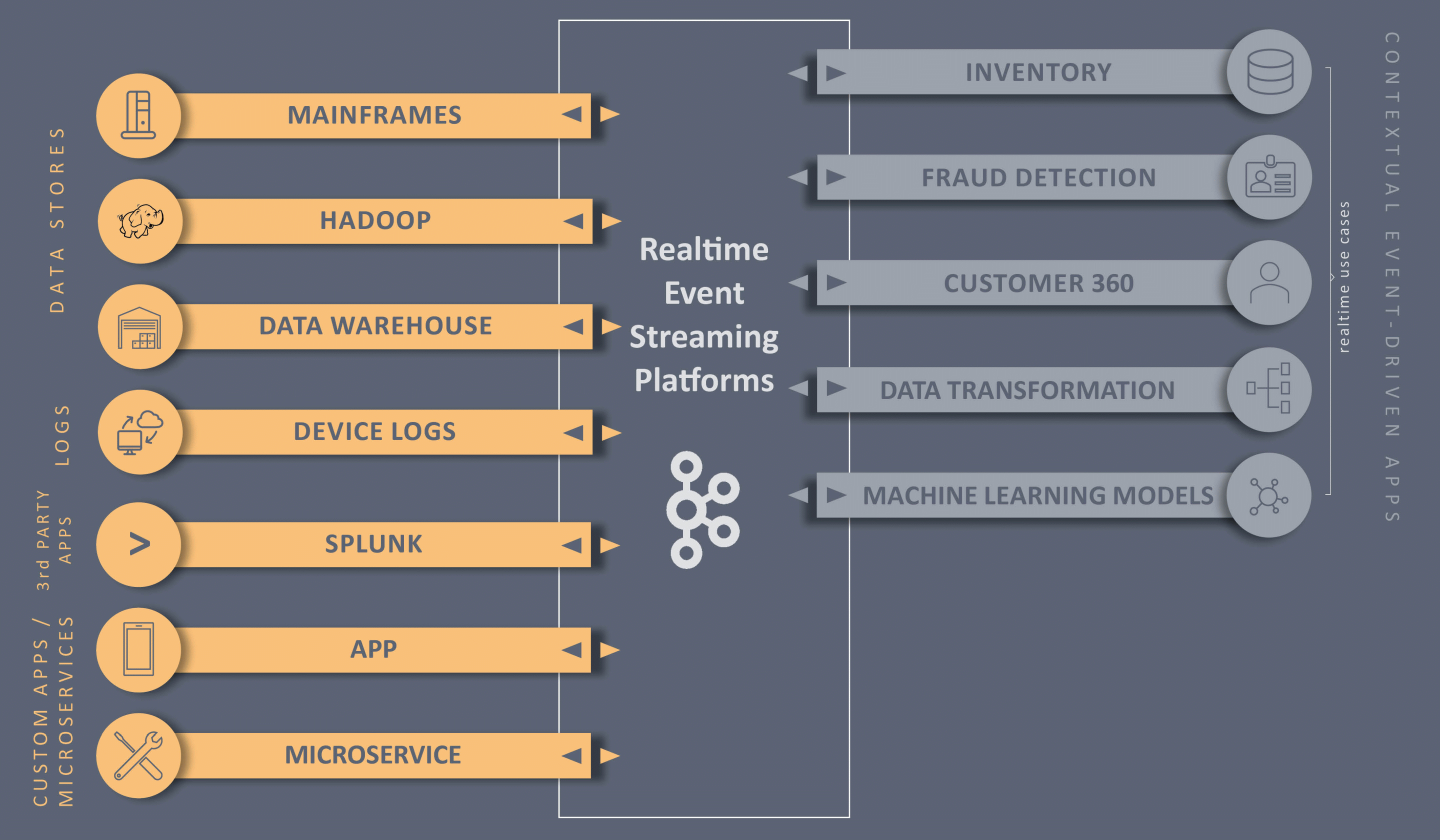 We accompany you with expertise and passion
​​​​​​​Using an event streaming platform and real-time data solutions also enables your company to make informed decisions more quickly, pro-actively respond to changing market demands, and deliver innovative services and an optimised customer experience for your customers. With our experience and expertise, we help you generate added value for your business through the use of real-time information and implement data management, storage and analysis. Missing elements are added by means of individual software development and appropriate interfaces to the required systems. Via dashboards, portals and apps, you and your customers have access to the real-time information you need. This enables you to optimise your business, services and resources – many aspects of digitisation that will be even more important in the future and a path on which we accompany you professionally, competently and with a lot of expertise and passion as an IT solution partner and
Confluent Plus partner
.
Get in touch!
We are looking forward to your message
I expressly agree to the processing of my data and have taken note of the privacy policy.
* Please fill out all fields